Testimonials
I want to thank Patti Sherfy of Sherfame for her friendship. She has given many hours of her time over the last 9 years helping, mentoring, and sharing with me many invaluable tips on the lessons she has learned about canine genetics over her lifetime.
Patti has been very successful at doing what she loves, putting Champions in the show ring. I appreciate her dedication and passion in keeping the Poodle breed, sound of health, sound of mind and sound of body. These priorities, in that order has kept her passion alive and strong for raising healthy, happy, beautiful Poodles over the last 60 years. She was gifted with the fascination for genetics, and has the rare talent for putting genetic families together to produce healthy, happy, beautiful off- spring. She has accomplished this year after year.
We share the interest of Red and Apricot Poodles in particular. We have the same values about keeping animals sound, whether it be Poodles, or other breeds or other species of domesticated animals.  We both see the sad results of poor breeding from those who don't care enough, or who don't know enough. And we both believe that putting together pairs who are genetically compatible is of most importance in keeping this wonderful breed healthy and vibrant in the years to come.
Patti has lovingly passed her knowledge on to me. Knowledge that can only be gained from experience. We hold dearly to the understanding that breeders must be responsible stewards. Any work done must be in the direction of improving upon, and never compromising the health, temperament or beauty of this very special breed, the Poodle. I think the biggest compliment to her would be for me, someday, to pass on the knowledge that I have gained from her to another person who will value it as much as I do.
Linda DeBlauw,      Scarlet's Fancy Poodles
Testimonials
I just wanted to give you all an update about the puppy (Hanna's female one) we brought home last Friday. We named her Miya.
She is very smart and playful. We love her so much already!! ❤️Everybody goes crazy when they see her, she is too cute.
Hope all is well with you and your doggies, I am sending you a birthday update for my little dude. Tomorrow, my Leo is 2!!!!! I can't believe how fast time has gone. He will always be a puppy in my eyes! He is so strong and healthy and is the happiest little guy around. I take him with me so many places and people always stop to pet him and comment on his cheerful and friendly nature. Here's an updated picture, he just got groomed the other day so he would be all clean for his birthday. He has a few new toys coming his way!
Thanks for making my little angel!!
Tessa-tu is perfect!
We had no problems bringing her back. She played with a toy in the open crate on my lap, while sitting next to our other baby, Beau, in the car. We were so surprised.
Bottom line: This is the most adorable, happy, and accepting puppy we've ever met.
We cannot thank you enough.
Hi Linda how are you? It has been 5 months since we received our beautiful poddles (Zac and Cody). We have been so happy with them. They are so cute and smart. We love them so much. We want to thank you for giving us so much joy!
It's Jenny and Nikko, we absolutely love our little girl. She is so energetic and loving! Her and our big dog Maverick get along so well too! 🙂 Here are some cute pics we wanted to share with you guys! Thank you so much for our little bundle of joy!
I feel the need to send updates bc Ted is doing so well and such a superstar and I'm so thrilled with him! Turns out we have someone in the neighborhood who has one of your dogs! It's a female named Minnie and I think she's about a year. Ted can have play dates in a month according to the vet but the dogs have met and she is gorgeous! I met her mom briefly one day and we gushed over the babies.
Attached are pics from the weekend. Ted's almost four pounds! He's a very healthy boy and we just started some training and he's a quick learner 🙂
Please send his love to everyone and all best!
I just love visiting your site. I just love my Lucy, who is now about 18mos and there isn't a day that goes by that I am not so thankful to have her. I live in San Antonio. I realize you may not remember where every baby goes, but I wanted to share Lucy (and her sister, Ethel) with you.
…just a side note…Lucy has the most gorgeous legs.
Peaches is a dream come true. She is beautiful, very smart; is fetching, using special place in yard for bathroom, eating, drinking, VERY HAPPY PERSONALITY, very loving and our vet said she is a gorgeous pup obviously from an excellent breeder that know's their stuff.
THANK YOU. WE ADORE HER.
Wanted to say hi and give u a status update on the puppy. Teddy is doing amazing! He is the love of my life and we're together most of the time ?He sleeps well, eats well, plays well and causes complete pandemonium everywhere he goes. He's growing like a weed and the vet used the word 'perfect' to describe him?. Here r a few photos from the weekend. We're both very happy so thank u again and again and hi to everyone there! I'm sure he misses it!!
Linda I can't thank you enough for all you do. Lola is just the most amazing dog ever. The Love, pride and true excellence you put into your dogs certainly shows with the end product! And! Miss Lola is one of them!! We love you!
Hi Linda!
Rachel and Leo here. I just wanted to send you another email letting you know how amazing my baby is doing. He is cuter every day. Thanks for making such an angel. He is my best friend and my sweet baby. Just look at those eyes! I could rave about him all day. Hope all is well on your ranch and give my and Leo's regards to his sis Ivy and his mom!
Just a quick note to let you know Aspen is doing!!! He is potty training ok and becoming a member of our family! He is eating and sleeping well and loves to play! His vet checks are good and he gained a pound already! He is growing like a weed! Thanks again for breeding such a quality dog!
"Linda….how can I thank you….Georgie is so sweet and full of love…I kiss her face off everyday!! She loves us all…but is my little shadow…she has brought so much joy these last two months…she likes shopping with me every day….enjoys her car rides as you can see…lol…BIG HUGS! and here I thought Winnie was the perfect dog…THEY BOTH ARE!!! Oh!! I have had so many people come up to me about Georgie…..so…I handed out all your cards…One lady I met in Costco…she was thrilled to have your card…wanted a red poodle bad…sweet,..thank you again Linda for your sweet heart and beautiful poodles…
Remington (from Hanna's litter born in April) is soo happy at home with us!! He's eating well and learning how to use his pee pads. He made my mom's heart melt and I even got my dad to hold him!! Lynda and everyone else at Red Teddy Bear Poodles – Scarlet's Fancy Poodles are awesome! Thank you so much for breeding a beautiful healthy puppy! We love Remington so much. ❤️❤️
Just thought I'd update you on Phoenix. He successfully completed his first week in his new home. He is an angel. Thank you so much for my new forever friend and love bug.
Harry & his baby Brother, Duggan representing Scarlet's Fancy Poodles on Long Island. These boys Know that they are brothers. When they get together, they never leave each others side. They have play dates & I'm so glad my nephew got Duggan. These boys are simply Awesomesauce. My black Schnoodle Lola doesn't like all the attention the red pups get but we make sure she knows that we love her too.
Linda – Thank you very much for our very own teddy bear with a sweet personality. She loves to play with dad, loves to follow mom around the house. She loves belly rubs! We are very happy to have her in our home. We are excited to see her fully grow into a beautiful moyen poodle. Thanks again! – Michelle & Robert of San Diego
Rudy (Nala's boy born Mar 27) is an unbelievably wonderful dog — sweet, smart, quick to pick up on house training (he's not foolproof, but has had several accident-free days in a row when we watch carefully). He's already loves to play fetch, is getting used to a loose leash and will (sometimes) sit. Are all your puppies this wonderful or did we luck into the pick of the litter? Or a little of both?
We got Teddy, our wonderful red moyen puppy, from you last fall (he was the largest boy in the litter). I have been meaning to check in with you for a while just to let you know how happy we are to have him in our lives.
The whole family is madly in love with him. He is so smart with such a kind demeanor. He loves to play ball with the kids in the backyard and he has daily play dates with our neighbors dog; they love each other! He sleeps by my desk when I work and loves to go out with us whenever he can.
He is like a celebrity when we take him out. Everyone wants to know what kind of dog he is and compliments his beautiful color. People even take pictures of our handsome guy. We have referred you to many people!
Thank you!
Hi
Sorry to bother…can you send me the name of the dog food and vitamins you recommend.
I bought coco (apricot poodle) from you last year. She is the best dog and my kids adore her:)
Molly stark
Hi Linda!!
This little Angel of mine and I just got back from a week in Monterey. She LOVES the beach!!! Such a great traveler!! Thank you being who you are and for the all the Love you give these most wonderful dogs! I just Love Lola to pieces!!
I have her groomed up here at the Soggy Doggy and a gentleman saw Lola when he went to pick up his dog. Anyway, he just bought a Moyen from you! Pretty cool!
Anyway, hope all is well.
Much Love,
Susie & Lola
Sent from my iPhone
Attachments area
Preview attachment FullSizeRender.jpg
Hi Linda,
Angel and Tallulah met your 4-month old red boy at Holmby Park yesterday.
It was so exciting to meet another Scarlets Fancy poodle finally!!
I don't know the name of the lady, but I'm sure you'll recognize her.
I always ask where people got their poodles, and finally hit paydirt!
I'd love to meet any of Angel's friends and relatives (sons? wives? girlfriends?)
who may live in LA.
Angel's a real character these days, endlessly adorable and fascinating.
I happened to check out your website last week and saw your beautiful moyens!
Hope you're doing well. We think of you often 🙂
xoxoxoxoxoxox susan and carol
Hi Linda,
Just want to let you know that Ruby has settled in very well In her new home with us. We adore her. She has a wonderful temperament, and is very social. She is clearly highly intelligent; she learns very quickly and responds well to positive reinforcement. And complete strangers stop us and tell us she is the cutest dog I've ever seen. Thank you for making this new love in our lives possible.We are so glad that Ruby is a part of our family.
Lisa Andelin
Linda,
I'm Michelle.  I got a wonderful pup… Bella from you last year.  She is doing great
.
My husband and I would like to look at some puppies or even adult females you have available.  We reside in Los Angeles,  don't have a better time to drive over due to our complex schedules (my husband has his business and needs to work in weekends, I work during the week. ..
Saturday
he has to work).
Can we come over
Sunday 09/06/15
around
1.30pm
? !
Really appreciate.
Thanks,
Michelle
Linda,
I'm forwarding some photos of Oliver that Roxanne took a few days ago.  I'll also forward one I took about a month ago.  He is now 30 pounds.  He is a beautiful dog, very enthusiastic, and seems very happy, with no bad behavior.  He has a great deep bark, like a dog three times his size.  Right now he is a shy puppy one moment and a brave watch dog the next. But he is not aggressive.  We take him to the farmer's market in Folsom, which is pretty crowed, and he likes everybody – and of course we get lots of questions about him.  He is very square (height and length), his adult teeth are all in and seem to be perfect.  He has a nice poodle trot.  A well-bred dog.
Jim
this is the one I took a month ago:
Hi Linda, 

We bought a red baby back in Feb 2015.  Remember we kind of struggled when we brought her home.  We just wanted to tell you that she is 5 1/2 months old now and we are absolutely in love her and want to thank you so much for bringing this gorgeous little baby into our lives, we could not be happier.  All is going well, she is getting very well trained now.  She is just a real happy dog and we want to thank you for our beautiful baby!   Ben and Joey
Hi Linda, My little puppy is doing so well….saw my VCA  vet within the 72 hrs…eating well…playing with Minna….playing toys….trying to be potty trained…sleeping all night in Kennel on the bed. He does have some separation anxiety which I Am working on. All together a darling,smart,curious,peppy,and confident little guy…very loving too! He is my 12th dog ,and  I continue to be amazed at the quality of your successful breeding!!….not forgetting my 11th dog Minna in this ultimate compliment to you ;)).So again thank you ,Linda…I am so very pleased and grateful with Minna and Dylan.
Sandy in Omaha
Hi Linda! Thanks for the information.  RUFFY just loved that chew, it lasted forever .  I have tried several different brand, but none lasted or "unrolled" like the one you gave him.  I read a great deal about dogs and health information, and I never buy anything marked  China. There have apparent been many deaths from treats and food.  Also, some product list U,S, or another country as "distributor" and have a "too small to read" notation that it was actually MADE in China.  I love my dogs way too much to take a chance!! And my little Ruffy has TOTALLY  taken my heart.  And, everyone who meets him!  He is the epitome of your description: "neither timid nor aggressive."  Also, he is absolutely the most well adjusted dog I have ever had in forty plus years!!  He is the happiest, bouncy little guy – LOVES LIFE!! And I have to mention, he is delightfully funny – makes me laugh at his little antics and play behavior constantly. WHAT A JOY HE IS!!!!  I could not possibly love him more, and every day he and I share more.
I will try to use this email – not a problem to "reply " this time. So, from now on, I will use "loveourpoodle@gmail,com" How appropriate !!!!  No doubt you receive dozens of pictures and emails from your lucky "poodle parent" like me that adore their Scarlet's Fancy" red poodles!
Best, Polly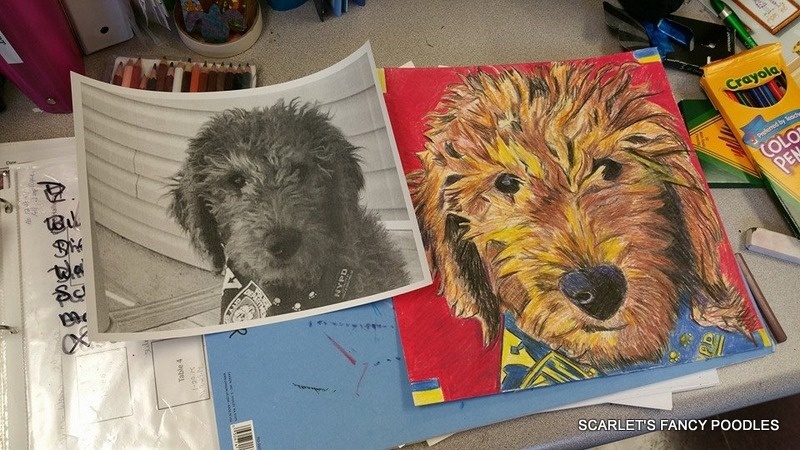 This is a portrait of Harry who as you know will turn 4 months old at the end of the month.  He is totally one of the family.  Harry has adjusted well to the cold, snowy, NY weather we've been having since he has arrived. What started as a mild Winter in 2014 has turned into one of the coldest Winters on the books since Harry landed in NY. He has experienced below Zero
(temps-fahrenheit) and 7 snow storms.  He is still a Cali boy at heart; always have to gently nudge him to go out and do his business. He doesn't like extreme cold but then again neither do I.   So training him is going well but I still leave a wee wee pad out from time to time because he sometimes resists going out into the tundra.
What a personality!!!
He cracks us up all the time.  He's jolly, goofy and all the while a very smart boy. He's a really, really joyful pup!
Harry started puppy classes given by a retired NYPD Canine cop.  I personally think he is the star of the class.  He sits, lies down and comes if enticed by a treat.
Harry will get his rabies vaccination this weekend.  Our 6 year old Schnoodle, Lola, is really having a lot of fun with Harry.  They play & frolic in the snow & walk great together.  What a great walker Mr. Harry is!
He stays right by my left side and doesn't pull or tug at all.
I just cant say enough about this mushy pup that you sent us! He's brought so much sunshine into our home!!!!
Thank you for sending us this wonderful, well-bred canine. Harry is a true blessing!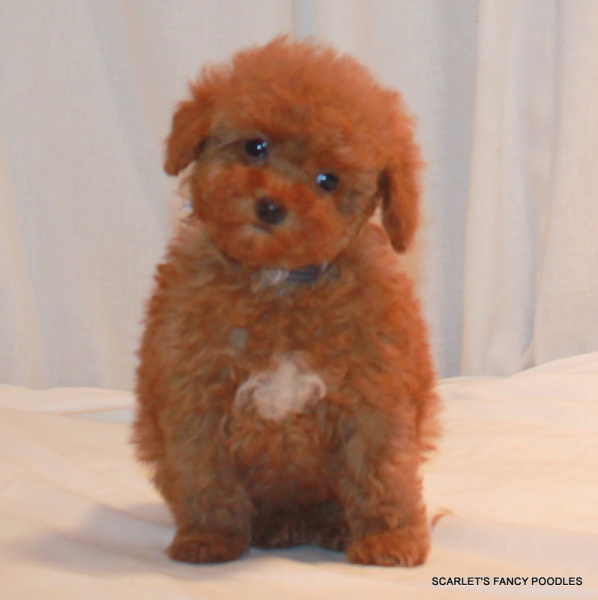 Hi Linda,
Thanks for sending me the Vet letter. The puppy is settling well with us. We named her as "Sora" which means seashell in Korean as she came from the Pismo beach area. It is also popular actress name.She is very active, eats well and very smart… It seems she is already getting close to potty trained since she had only one accident on the first day. After couple of days training every two hours, she is figuring out what to do. We had her checked with a Vet and Doctor said she is fine and healthy. Only thing is she has been scratching her ear often. Dr said it is due to her ear hair (common in poodles) but he gave us a cream for flea control just in case. I would like to wait a little longer until she gets little bigger though.
Thanks for our new family member and all of your time for explanation and information! I will keep you updated.
Thanks, Luke
Jasper, the baby Moyen boy
Hello Linda,
Thought I would give you an update on how things are going.
First, I guess I should tell you that I have decided to call him Jasper.  He's starting to pick up that this is his name, and is responding to it.
He's settling in well.  House training is progressing really well, and he's very quick to go potty when I take him to his spot outside.  We've only had two accidents inside the house, but they were minor.  At night he's crated and in the bedroom.  He's good about letting me know that he needs to go outside at night, and wakes me – there have been no accidents in the crate.
He's very affectionate, and eager to play.  Equally happy to fall asleep at my feet.  So it's the perfect personality, and just what I was hoping for.
We went to the vet yesterday, and they were very happy with how he's doing.  He had lost a small amount of weight from when I picked him up (I weigh him daily) … but that's now reversed course and he's picking up weight.  Also, I received the package in the mail.  We're now on schedule for his continuing vaccinations and worming schedule.  Also, I received the package in the mail. Thanks for the additional info, and the inclusion of the DVDs.
So all in all, it's working out great. Have attached a picture of Jasper – his standard morning position of sitting on one of his blankets.
Regards
Txomin

Linda,
I just want you and everyone looking to buy a puppy from you what a joy and blessing my little Leo is. He is everything you could want in a puppy and  he brings joy and smiles to everyone he meets. Everyone absolutely loves him and asks me where I bought him. Even the groomer and the vet get excited when they hear he is coming in for a visit! Thank you for raising these beautiful and kind puppy/humans. Sometimes I think he knows exactly what I am feeling! Here he is at 7 months. We keep him in his teddy bear cut!
Thanks!
Rachel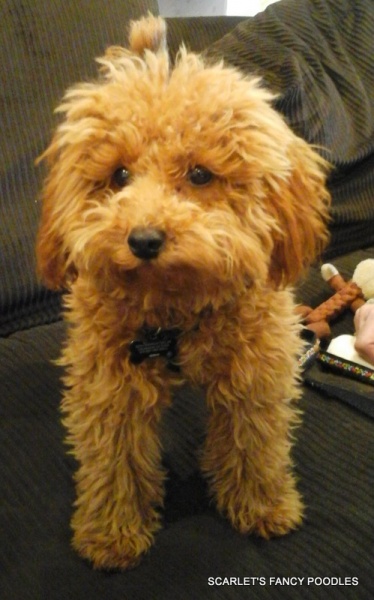 Hello Linda,
Our puppy Pluto is such a wonderful member to our family.  He is so loving, so very smart, and has such a gregarious  personality.  He just started Puppy 1 school and getting to know how to interact with other puppies.  He is alert and easy to train in class.
Regards,
Colleen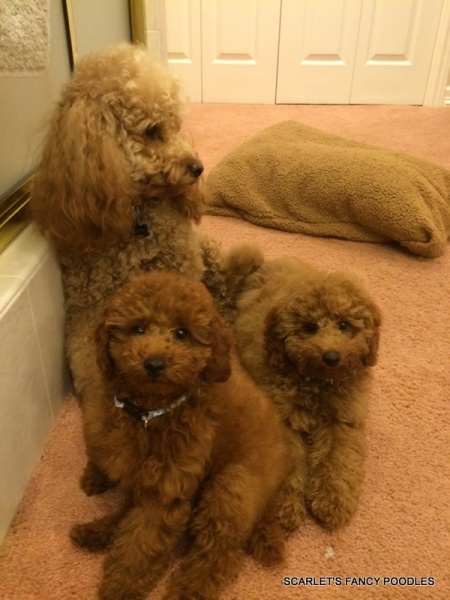 Ruffy is a grown up now.   He now has 2 little siblings, Rory and Polo, all are Scarlet's Fancy Poodles.  They have a wonderful home with Polly.
Hi
I can't thank you enough for wonderful Penny. I can't get over how smart, loving and kind she is! We get stopped EVERY place we go……people even stop their cars to get a glance at Penny. We go to the dog beach every morning and she is the first dog to meet & greet everyone as they come in the entrance. Penny's personality is great….she will let anyone pick her up and play with her……she is not shy. She loves communicating…..if she finishes her water and wants more she quickly runs into the TV room and sits in front of me until I get up and follow her into the kitchen and she points with her nose…."more water please". If she wants a treat she will find me and perform every trick she knows…..sit, lie down, roll over and high five…….all at once…..she makes all of us laugh. Her coat is thick, wavy and a beautiful shade of red. We love her dearly and are sending clients your way 🙂
Thanks again for this little bundle of joy!
Penny is 5 months old in this picture.
Warm regards,
Jeanne
5/25/14
Hi Linda!  I have been meaning to write for some time to let you know what an ADORABLE little guy RUFFY is !!!!!
He is so happy:  loves him sisters, loves his yard, loves his Mom and Dad,
Loves his puppy classes.  He is pure delight, and simply gorgeous!! He is well socialized with people and dogs, and everyone falls in love with him at first sight!!
I do have one catastrophe (for me anyway).  All his beautiful baby pictures that you sent me have been lost.  The cleaning lady who comes once a week
apparently dropped my old phone – and I had not yet transferred them to my new phone.  I am simply crushed.
Those pictures (and you sent me quite a few) I treasured.  Especially a series if him lying down looking right at the camera, ones in a chair or something with a white backdrop, and some of him outside with his hair a little rumpled.
If there is ANY way you could email them again, I would be SO grateful.
When he came home I tried to take pictures – but they were nothing like yours – he was very wiggly at first!
I am going to send you some soon to show you how handsome he is now.
My only other request: You sent him home with some type of a rolled rawhide that he adored – and which lasted forever.  I have looked and looked and tried MANY varieties – none are like that one.  I wonder if you could tell me what brand that was.
I hope you are doing well with all your precious little red ones.  At some point RUFFY thinks he might like a younger sister.  Right now he is content to play nonstop with Chloe (the Bichon) who is 4 1/2.  He has tried to rip all of her hair off her body – but she is totally patient and put up with the little puppy teeth.
Jazzy, the Pomeranian who is around 10 doesn't run much, but RUFFY showers her with kisses and attention anyway.  On the weekends my daughters two miniature poodles come visit – and RUFFY loves to play with them also.
Thanks again for ensuring such a PERFECT little guy came into this world, and for providing such an excellent start.  He is my absolute JOY!!!!
Thanks, Linda
Polly
2/19/12
Hi Linda!
Here's a video of DeNiro having a treat. Don't worry…it's not a real chicken bone. Like you said, he loves pig ears and also chicken jerky. We are in love! As you can see, he's gorgeous! Training is getting there. It's amazing how much he learns in one week! He's up to date on his shots–we have a great vet right nearby. He definitely is the talk of the town, and we have referred lots of people to you. Thank you for the AKC papers, and thank you for everything! I'll keep sending pictures and updates. Hope you are well.
Mark and Melissa
Hello this is Marcus  in Lancaster ca!! I bought a puppy (Vetty short for Vetiver) in February of 2013!! If by chance you will have a boy red poodle born on or around my birthday March 25, please let me know I want him for a playmate & companion for my sweet little Vetiver!! My experience with the dog I bought from you already has been wonderful!! I would always purchase a puppy from a reputable breeder such as yourself from now on!! It's a little more expensive but well worth the money!!! Thanx so much for allowing me the opportunity to own one of your puppies!! Here is a pic of Vetiver!! She is quite the Dutchess don't you think ?
Hi Linda,
Just wanted to let you know that we are beyond thrilled with our puppy Geno.  He is the love of our lives.  He's such an amazing puppy and everyone who sees him falls in love with him.  He is so well behaved and easy to train.  It's like we don't even have a puppy, but a well trained dog that seems to have been in our family forever.  Thank you from the bottom of our hearts.  You have helped us complete our family.
All the best,
Gretchen
June 2014
Hi Linda,
I wanted you to know that I am thrilled with Teddy; I feel like I won the puppy lottery! She is such a delight and soo smart, what a joy she is to me.
I named her Theodora Roux ('God's gift' in Greek), so I call her Teddy; didn't really want to make her adjust to yet another new thing in her life. We have transitioned well into our life together; I just can't get over what a joy she is. She and the cats are still doing their "dance", but are getting to know each other. Teddy just wants to play and when she gets too rambunctious they hiss and she backs off. They are fun to watch. Teddy runs the length of the house (laps) several times when she gets excited, which is great exercise for her. She and I take a walk every morning for about 45 mins. and a shorter one in the evening. A lot of people walk here and everyone that sees Teddy comments on what a pretty dog, etc. We just eat it up!
We are going to Laguna Beach over the 4th for 3 weeks and will be taking long walks along the ocean and Teddy will get her first time in the water. Two of our favorite restaurants there allow dogs on the outdoor patio, so we're excited.
I've found a vet (3rd. one) I like a lot and a great groomer that has poodles herself and shows them. Her puppy won 1st place at a show back east. She does a great job on Teddy.
Life is good!
All the Best,
-Pam
Seasons greetings to you! I hope the note finds you well.

I just wanted to drop you a note with a few recent pictures of our darling girl.  

I am so incredibly thankful for her and the joy she has brought into our home.

Shortly after bringing our baby home I suddenly lost my dear father.  

She has been such a source of love and joy for us all.

During this impossibly difficult time she pours out 

unconditional love and affection. 

She is positively perfect in every way.

Thank you so much for what you do.

You are spreading love with your darling puppies.

I am sorry to not have been in better touch sooner 

but life threw me a curve ball I was not prepared for.

I sincerely want you to know how much we treasure her.
Hi Linda! Thanks for the information.  RUFFY just loved that chew, it lasted forever .  I have tried several different brand, but none lasted or "unrolled" like the one you gave him.  I read a great deal about dogs and health information, and I never buy anything marked  China. There have apparent been many deaths from treats and food.  Also, some product list U,S, or another country as "distributor" and have a "too small to read" notation that it was actually MADE in China.  I love my dogs way too much to take a chance!! And my little Ruffy has TOTALLY  taken my heart.  And, everyone who meets him!  He is the epitome of your description: "neither timid nor aggressive."  Also, he is absolutely the most well adjusted dog I have ever had in forty plus years!!  He is the happiest, bouncy little guy – LOVES LIFE!! And I have to mention, he is delightfully funny – makes me laugh at his little antics and play behavior constantly. WHAT A JOY HE IS!!!!  I could not possibly love him more, and every day he and I share more.
I will try to use this email – not a problem to "reply " this time. So, from now on, I will use "loveourpoodle@gmail,com" How appropriate !!!!  No doubt you receive dozens of pictures and emails from your lucky "poodle parent" like me that adore their Scarlet's Fancy" red poodles!
Best, Polly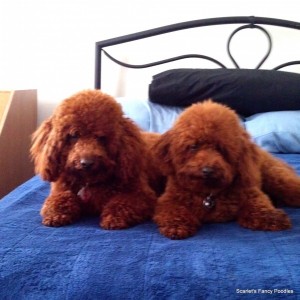 I hope u enjoy the pics of the boys.
Donna
Hi Linda,
Hope all is well with you. I wanted to tell you, I am very very pleased with the excellent temperament of my puppy. Her intelligence and quite temperament certainly makes it easy for me to train some good habits and basic commands. She loves traveling and while I'm driving she stays quite inside the carry-on bag that I use for that purpose. She also follows on the leash (rather than pulling) and this is great too!
I drove back to Vancouver yesterday and had no problem crossing the border with the Rabies and Vet Health certificates. My local veterinarian that I also use for my cats wanted me to ask you if you might know the history of this poodle's line regarding the first 'heat'. I understand it can vary significantly with dogs. At what age can I expect this to happen if she is not spayed? If you know the history would be appreciated. 
Thanks,
Ron
Ps. Here she is at 4months.