Available Puppies
All Puppies pictured below are available and ready to be adopted now.  Updated daily
~Operation Permit C2598
~licensed – sales tax will be calculated on your puppy purchase

~inspected
~caring stewards of the Poodle breed
WE SPECIALIZE IN FINE QUALITY RED and APRICOT POODLE PUPPIES that will be sold to PET HOMES, registration will be limited (sold as pets).  We also have puppies that are show prospects.  They will be sold upon agreement with full registration.
* If the puppy you have decided on becomes unavailable (due to any unforeseen  cause, or you are unable to take your puppy when it is ready to go home) your reservation deposit will be placed in first position for the next available puppy of the  same size, sex and color.
*If you are interested in a puppy that is not shown in the pictures below, email us.   We may have the puppy you are looking for.
Moyen males, natural look on tail.  Tested parents.  Drop dead gorgeous dogs, adult weight will be 25 – 35 lbs
Temperaments and comformation, excellent.  AKC registered $2500.
These pups will need a owner who has a large back yard and who will take them to training classes, as they are good size dogs.
Pictures will be taken when they are 7 weeks old and have passed their Vet Checks
Now is a good time to reserve.
click to view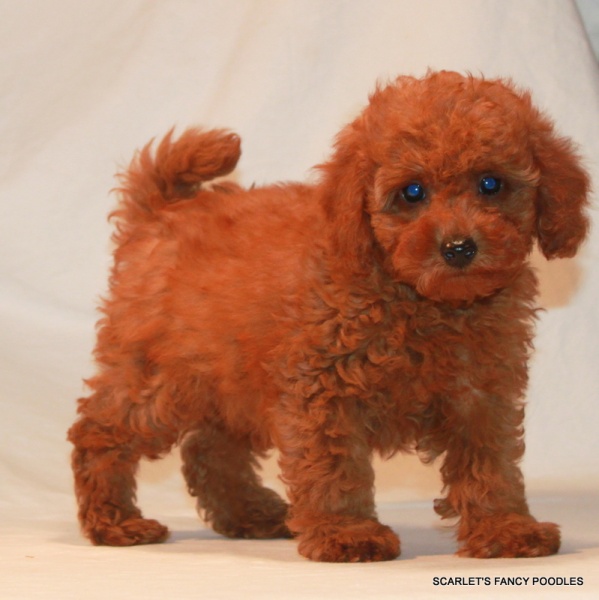 A really cute puppy.  This pup has been Vet Checked is healthy with a great temperament.  He will be big enough to be a good companion for walks or hikes, to get into your car by himself and go upstairs or jump on and off of furniture.  He is a very versatile size.  Good for people of all ages.   Estimated adult weight 10 – 12 lbs.   AKC registered, $1500
click to view
This little boy is everything a really good Poodle should be.   Vet Checked is healthy and ready for his permanent home.  Playful, happy and intelligent.  This puppy is good people of all ages.  AKC reg $1500.
click to view