Available Puppies
All Puppies pictured below are available and ready to be adopted now.  Updated 4/20/14
Operation Permit C2598
WE SPECIALIZE IN FINE QUALITY RED and APRICOT POODLE PUPPIES that will be sold to PET HOMES, registration will be limited (sold as pets).
Puppies Available to Reserve Now
Miniatures and Toys, and Tiny Toys and the new 4th size Moyen
VET CHECKED AND READY TO BE ADOPTED.
Reservation is required. Deposits will be applied to the purchase of your puppy.
The Reservation Deposit is not refundable.
* If the puppy you have decided on becomes unavailable (due to any unforeseen  cause, or you are unable to take your puppy when it is ready to go home) your reservation deposit will be placed in first position for the next available puppy of the  same size, sex and color.
If you are interested in a puppy that is not shown in the pictures below, email us.   We may have the puppy you are looking for.
Miniature and Toy pups will be Vet checked in the next week.  Teddy Bear styles will be available.  A few very nice pups with natural tails will also be offered.
click to view
This little girl has been vet checked, is healthy and ready to be adopted.  She will be approx 10 lbs when she matures.  Her temperament is excellent.  AKC registered $1500.
click to view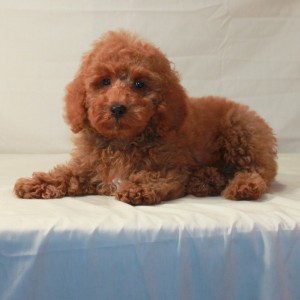 This puppy has had his Vet check, is healthy and ready to be adopted.  He has a little white spot on his chest.  Overall color is light red.  His temperament is excellent.  He will weigh approx 10 lbs when he is fully grown.  AKC registered,  $1500
click to view