Hello, we bought a small toy poodle from you about 8 to 9 years ago named guppie by you. She is the best dog ever. We are thinking of getting two more just like her, possibly siblings. Do you have any from that same bloodline? Thank you.
Lynne
It was obvious Linda is passionate and devoted to the breed. Ginger Rogers has been a wonderful addition to our family, quickly adapting to life in downtown San Francisco. She's been rocking the scruffy muppet shag and turns heads left and right. We even had a car stop mid-traffic to roll down her window and share poodle stories. Loves all people and friends she encounters, able to play gently with pups and keep up with the big dogs. Fabulous color and fabulous breed.
Roy Sanson-Mosier
Hi Linda, I took the puppy to my vet this week and received an excellent bill of health, as I expected. He has clearly been very well raised. By the time of the vet visit, his testes had descended. I am calling him Tassos and find him amazing and delightful. He and my cat have become fast friends already and romp around having a good time with each other. When I separate them, being careful to limit their time together so Tassos doesn't get too tired, both cry. Thank you for all the good breeding and care.
Patricia
My family & I have a total of 6 poodles from Linda and all of them are simply wonderful. Not only are they beautiful, they are really smart and have wonderful personalities. Thank you so much, Linda, every one of them have brought us so much joy! When I can add another dog, I will certainly come to you!
Sally DeVincenzo
This is my dogs' love letter to Linda Debrauw and Scarlets Fancy Poodles.

What a stroke of very good luck finding you. Having had animals all my life and finding it time for another, we embarked on our search to find a breeder just like you.

Our wonderful dogs are a tribute to the love and devotion you put forth on a daily basis for people like us. You have the most incredible puppies.

I was so happy to visit your facility 2 1/2 years ago right before COVID hit us. I was so privileged to meet you in person and your staff. Your loving care is so obvious. That you keep in touch after all this time (6 years) with continued interest in your babies is heartwarming. It shows us you are doing so much more than making a living. We are so grateful to know you.

If anyone spends time wondering if you are the right breeder who is reliable, honest and interested in the best results, just have them call me.

I traveled across the country for Reign and Breeze and I look forward to doing it again for my next puppy and to see all of you again.

With love and hugs for you and all your wonderful dogs, Enid from New Jersey.
Hi Linda- just want to check in and let you know your last Celine baby to fledge is doing great. He is such a sweetheart and so smart. You were right, he needs a little wet food mixed in to his kibble to motivate him, but he's eating fine. He is going potty outside, with his only mistakes being our fault. He sleeps so well at night. I follow your directions and by the third time of sticking my finger in he's calmed and goes to sleep. 3:00 am potty trip and he's good until 6:30. Naming him is the hardest part.
Mr Finn is completely potty trained!   Love his personality.   I got him trimmed by the women at his Vet.  He is a character!
My red Large toy Dixie is 5 years old today.  She weighs 10 lbs and has been a great dog.

Neil
Nala is six and simba is three years old, we love our poodles , they are so lovable . Thank you Linda for breeding wonderful poodles.
PS, might be considering our third.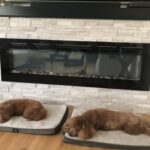 Martin & Lisa Illames
Linda and Scarlet,
WE LOVE OUR BABY TIGER!
We have been soooo busy with Tiger we have not connected with you ladies.
So sorry!  Hope all is well with u all!
Also last week he had a row of 6 front baby teeth still in…but today he only has 2 left so they are falling out naturally!!!!
Tiger is spoiled rotten, and we love it!  He LOVES 'Puppy Pals', a Disney cartoon and Animal Planets' 'Too Cute' a series of puppies followed from birth to their new families! He also loves to play with himself in the mirror.
He is with us 24/7 and has Never been left alone….not once.  Just like our prior Rocco.  He is also making a ton of new friends!
He is simply priceless!
Thank u so much fir everything and will keep in touch better in the future!
Xoxo
Mary, Nikki and Tiger
Hi Linda, hope all is well and you are enjoying the puppies.Just wanted to keep you updated on Ashoun. He has become a brother to me an we all love him. He is excited to play with us every morning and he loves being outdoors. He has learned to swim and fetch. He is currently 18.5 pounds. He is an angel. He is truly amazing. He recently received his yearly vaccine and he is doing great. He loves people and he gets excited every-time he sees something new. I look forward to next year, when I start driving; I will be back to bring home a sister for Ashoun. We really appreciated your efforts and we are so thankful. Ashoun has been an amazing dog and he deserves a sister.
Nala is six and simba is three years old, we love our poodles , they are so lovable . Thank you Linda for breeding wonderful poodles.
PS, might be considering our third.
Martin & Lisa Illames
Our Ruby is the most loving, well tempered, and well behaved poodle that we have had. She is good with all people/kids and all other dogs. We'd like to get her a brother or sister from one of your upcoming litters. Thank you, Jim & Bev
Jim Walbridge
Hi Linda, Bubbles, Thriller, my husband and I have moved into a new home.
The dogs love it here: Where we lived previously, they weren't excited about their daily walks; here,
they can't wait. Perhaps it's all the smells: the rats, rattlesnakes, gophers, squirrels, bunnies, coyotes,
mice, lizards, crows, hawks, seagulls, pelicans, tarantulas, and scorpions that intrigue them.
They're both doing well: so full of love and mischievousness. Warmest Regards.
Michele
Wanted to update you on Mitzi from Atascadero. She is a doll and we love her very much. Her fur is darker red than the photo shows and is very beautiful.
She let's me comb her every day, but the puppy hair messes up very fast. She is a little Red head apricot girl. She has gained weight, almost 5.3 now and she is growing and seems to be very healthy.
Our Atascadero veterinarian is very impressed with her. She is very active and plays real hard, then she crashes and it is nap time; however she always seems to have one eye open to see if anyone in the family might do something interesting that she will miss out on.
She sleeps all night. I followed your night time directions and she has slept all night in her cage near our bed, from the first night. We also gave her the Heart Beat Snuggle puppy to use only at night and as long as the heart beat is on she is sleeping and happy. Her favorite chew toy for teething is the stems from the garden, cabbage, kale and broccoli plants. Her favorite game is tug a war and she hasn't met a ball that she doesn't like. The talking ball is by far the most played with. She is such a pleasure; we never know what she is going to learn next. She goes outside on her own through the doggie door into our screened in deck and arbor area to play and to go potty. She is a very fast learner.
Thank you, Linda and staff, we are so happy with Mitzi, she is a delight and so much fun for our family.
Joan
Dear Linda,
I just felt compelled to write and thank you again for my wonderful doggie Bingo.  He is truly the light in my life.  He has the best temperament and is just so loving.
I hope that all is well with you and your family.
Warmly, Gillian
I want to thank Patti Sherfy of Sherfame for her friendship. She has given many hours of her time over the last 9 years helping, mentoring, and sharing with me many invaluable tips on the lessons she has learned about canine genetics over her lifetime.
Patti has been very successful at doing what she loves, putting Champions in the show ring. I appreciate her dedication and passion in keeping the Poodle breed, sound of health, sound of mind and sound of body. These priorities, in that order has kept her passion alive and strong for raising healthy, happy, beautiful Poodles over the last 60 years. She was gifted with the fascination for genetics, and has the rare talent for putting genetic families together to produce healthy, happy, beautiful off- spring. She has accomplished this year after year.
We share the interest of Red and Apricot Poodles in particular. We have the same values about keeping animals sound, whether it be Poodles, or other breeds or other species of domesticated animals. We both see the sad results of poor breeding from those who don't care enough, or who don't know enough. And we both believe that putting together pairs who are genetically compatible is of most importance in keeping this wonderful breed healthy and vibrant in the years to come.
Patti has lovingly passed her knowledge on to me. Knowledge that can only be gained from experience. We hold dearly to the understanding that breeders must be responsible stewards. Any work done must be in the direction of improving upon, and never compromising the health, temperament or beauty of this very special breed, the Poodle. I think the biggest compliment to her would be for me, someday, to pass on the knowledge that I have gained from her to another person who will value it as much as I do.
Linda DeBlauw, Scarlet's Fancy Poodles