Available Poodle Puppies
If you are interested in one of the puppies that is posted, please fill out the application form.  We will review your application and email you with within 24 hours, or as soon as time allows us, remember we are caring for the babies and their Mom's.  So please do be patient.  Caring for the Poodles must always come first.  
You can see pictures of previously raised puppies on our gallery page or on our Facebook page – redteddybearpoodles.com
Operation Permit U18-004880

Licensed and inspected


AKC Compliance

Caring stewards of the Poodle breed
We sell our puppies to excellent pet homes with American Kennel Club limited registration (sold as pets).   And must be neutered by 6 months of age, or guarantee will be void.  If a purchasing party desires full registration this must be approved by Scarlet's Fancy Poodles, and a written agreement must be signed by both parties for full registration.  We do not sell any puppies that are intended to be cross bred. (bred to any other breed that 100% Poodle).
 If the puppy you have decided on becomes unavailable (due to any unforeseen cause, or you are unable to take your puppy when it is ready to go home)  you may bank your deposit puppy for a later time that better fits your schedule.   Your reservation will be placed in the first position for the next available puppy of the same size, sex, and color as the one you have reserved.  Otherwise we do not issue refunds.
This little girl is a favorite of mine.  She has really nice conformation, is happy and playful.  She will be vet checked at 7 weeks, but can be reserved now.  Excellent for adults or families with children.  AKC registered $2500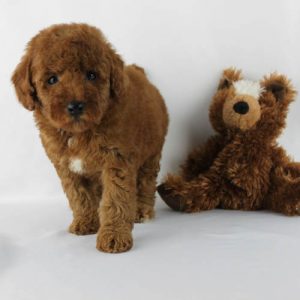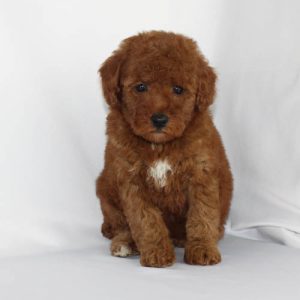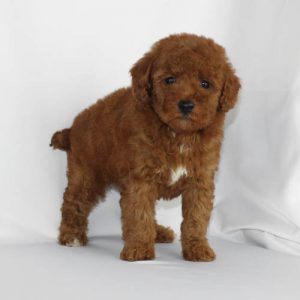 click to view