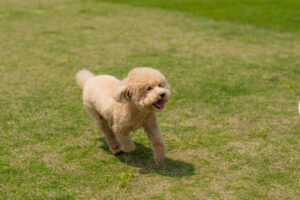 For poodle owners who want their furry friend to be happy and healthy during the summer months, a shorter summer cut may be the perfect option.
This allows them to be cool and comfortable when they play in the heat and can make it easier for you to keep them clean when they play in sand, mud and more.
Though most summer cuts follow the same general theme, there are several variations depending on your style preference. No matter which summer cut you prefer for your poodle, you can rest assured that they will be happy, healthy and comfortable all summer long.
Keep it short
Although you may worry about cutting your poodle's hair too short, they are actually one of the few breeds that have no issues with a shorter cut. With a poodle you can cut the hair on the lower neck, body and legs down to about a half an inch without worry. This type of cut is known as a summer cut, kennel clip or utility clip.
Please note that the ears and tail will typically be left at their normal hair length to preserve the traditional poodle appearance.
Go all the way with a German cut
A slight variation of the summer cut, a German cut will have your poodle's entire neck and tail shaved, leaving only their head and ears with the normal amount of hair.
This cut not only gives your dog an even more unique appearance, but it makes cleaning them a breeze during the warmer months.
Leave the legs as they are
Another summer haircut for a poodle is getting a traditional summer cut that also leaves the legs at their normal hair length. This may not be an ideal look for all poodles, but many poodle owners have started adopting this style for their pet during the summer. This gives an air of elegance and will be sure to turn some heads when you take your pup out in public.
Should you live in a warmer climate and want to give your poodle a fresh cut this summer, be sure to try one of these trendy styles.
If you do not own a poodle yet and want to adopt one in the future, we ask that you think of our premier poodle breeding team at Scarlets Fancy Poodles.
We are licensed, ethical and committed breeders of purebred Teddy Bear Poodle puppies and take great joy in sharing these amazing animals with other poodle lovers. We have raised poodles at our California ranch for nearly 60 years and promise that you'll be getting an incredible addition to your family.
To view our available poodles, click here or explore the rest of our site to learn more about our breeding process and standards. Our puppy application is also available on our site.