The Puppy Socialization Rules of Seven
April 19th, 2019
Adding a new puppy to your family can be both exciting and challenging. The first several weeks of your puppy's life are extremely crucial to their growth and development. It is important to be patient and consistent with your growing puppy. By encouraging your puppy's socialization skills, you can help develop your puppy's behavior and personality traits. Poodles are an exceptionally intelligent breed. They will need stimulating activities and fun challenges to help them progress.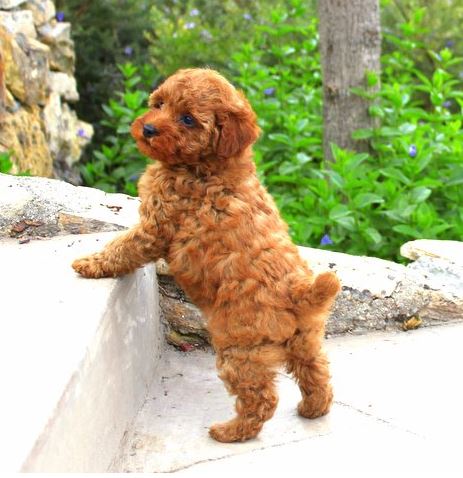 When developing your puppy's socialization skills be sure that the places you take them are safe for dogs. By the time your puppy reaches 12 weeks of age they should have been exposed to the following situations:
Visited 7 different homes– By taking your puppy to different homes they will learn how to behave in different social settings. Just like a young child, your puppy needs to learn how to act in public and how to react to strangers. Take note of how your poodle behaves around new people. Poodles are extremely social and love to please a crowd. This is why poodles are one of the most popular breeds in dog shows.
Interacted with 7 new people– Just like taking your puppy different homes, interacting with new people will teach them how to socialize with others. Observe how your puppy treats new people they encounter.
Played with 7 different toys– Toys are an important part of cognitive development in your puppy. You want your dog to learn how to play with different toys. Poodles are intelligent and energetic. To keep your poodle mentally stimulated, opt for an interactive toy like Babble Balls. It is important to let your puppy play with toys alone and with other puppies.
Encountered 7 different challenges- Challenges help developmental skills
by encouraging your poodle pup to overcome difficulties. Going up and down the stairs, climbing on a box, and playing fetch are great challenges to encourage you poodle's development.
Heard different noises– There are many different sounds that we hear throughout life. It is important to make sure your puppy is exposed to different noises so that they can get used to hearing things like blow dryers, car alarms, and babies crying. Be cautious when exposing your puppy to new sounds. Don't go chasing your new puppy around with the vacuum cleaner! Make the experience natural and give them reassurance if they show signs of fear.
Some other things that will help your puppy develop are driving in the car, wearing a collar, and playing with other dogs.
When purchasing a puppy be sure to do your research. Read our blog on finding the right breeder to help with your search.
If you are interested in purchasing a poodle, Scarlet's Fancy Poodles is an excellent breeder. With a history of over 60 years in breeding poodles, Scarlet's Fancy Poodles is committed to providing well-bred puppies. We specialize in breeding toy, miniature, and Moyen poodle puppies. Visit our website and start your puppy application today!