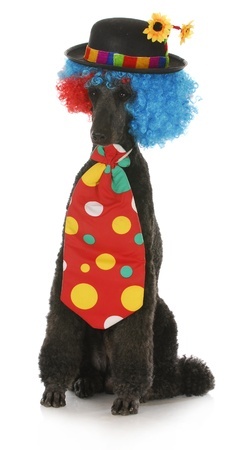 A fun event for families of all ages, Halloween is a great opportunity to enjoy our favorite tricks and treats. Whether it is your dog's first or fifth Halloween, make sure they have a safe and enjoyable night too!
Keep Your Pets Inside
With so many strangers running about in strange costumes and the doorbell constantly ringing, Halloween can be scary for your pets. Keep them inside the house throughout the evening, away from the door you are passing out candy at. We recommend letting them relax in a quiet room of the house or putting up a baby gate before the front door so Fido can't sneak out with the trick-or-treaters. Take extra precautions, making sure your pet has their id tags on and gates are properly closed when they go outside to relieve themselves.
Prepare Your Dog's Costume Ahead of Time
Every animal is different and while some are definitely hams, others are frightened by the strange fabric surrounding them and potentially blocking their vision. If you are interested in dressing your pet up for Halloween, try on the costume ahead of time to make sure it fits comfortably and allows them to see and move regularly. Also remove any dangling pieces that can be seen as a snack. For dogs that despise costumes, try a Halloween themed bandana!
Watch the Decorations
From spider webs to Jack-o-Lanterns, there are plenty of things for a curious dog to get into during the Halloween season. Be sure to keep electrical cords and candles out of reach to prevent injuries.
Keep the Candy Safe
While all candy will upset your dogs stomach, chocolate is especially dangerous and potentially lethal to our furry friends. Pay attention to where you put your bowl of Halloween candy and talk to your children about keeping their treats out of your pet's reach. If your pet does ingest some candy this Halloween season, call your vet right away. Symptoms of chocolate poisoning include vomiting, diarrhea and seizures.
Happy Halloween from Scarlet's Fancy Poodles! Is your poodle dressing up for the festivities? Share a picture with us on our Facebook page. We hope you have a safe and enjoyable evening with your family.