Summer is almost here and so is the hot weather that accompanies it. Be sure to provide your poodle with plenty of water, and get them ready for the heat with these quick tips from Banfield.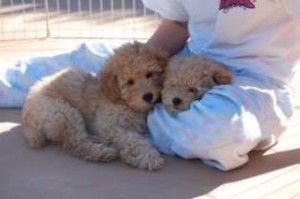 Watch the Pavement
Pavement can become painfully hot in the summer month. The pads of dogs' feet are very sensitive and can be hurt or burned by extremely hot surfaces. Keep your furry friend safe from harm by checking the heat before letting them out or taking them for a walk.
Before heading outside in the summer sun, place your hand on the pavement for ten seconds. If it's too hot for you to keep your hand on, it will hurt your pet too. To combat this heat, spend your time outdoors in the grass and opt for a trip to the dog park instead of a walk down the hot street.
While Swimming
Many poodles love to swim. Whether yours is a great swimmer or afraid of the water, always watch them carefully in or near a pool or any other body of water. If you will be spending time on a boat with your dog, purchase them a life jacket. This will ensure their safety even if they decide to jump in for a swim.
Try not to let your dog drink pool, pond or lake water. Chlorine and other pool chemicals are not good for pets' health, and ponds and lakes are two common sources of parasites. Most are not overly harmful, but can cause diarrhea.
Is this your poodles first summer with the family? Introduce water gradually to make them more comfortable with the idea and all the fun it can be!
Summer is a great time to enjoy the heat and outdoors with the furry members of your family. Use common sense, provide them with plenty of water and follow these tips for a summer full of fun.